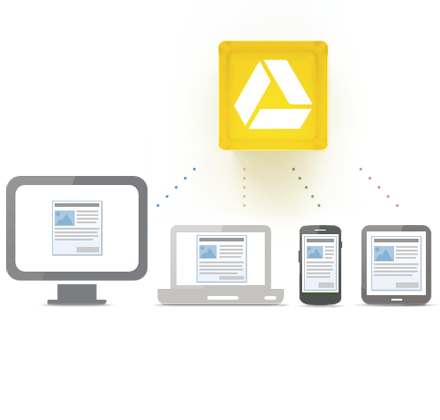 There is this idea, called cloud storage. The premise of it is that instead of have to manual carrier computer files between hard drives, memory cards, and flash sticks, the files would be stored online. Once there are online they could be accessed from anywhere in the world with the only perquisite being an internet connection. Instead of having to worry about carrying dozens of small flash drives for different office presentations or flash cards for all of the family photos, you just need an internet capable device and you are ready to go.
In the world of cloud storage, there aren't too many options for regular files. Amazon, Google, and Apple will all store your music libraries for next to nothing but if you have applications or documents it isn't so easy. The biggest players in cloud storage include Dropbox and Apple's new iCloud. Today Google announced its worst kept secret since the Nexus One. Today Google launched, Google Drive. We at Gone Googling have detailed the release and other pricing information available here. I am going to try and make a short comparison between Google Drive and the competition.
Storage
Dropbox has been a big player in cloud services for a while. New members got to start out with 2GB of free storage and could earn more through promotional offers like new member referrals, otherwise they would have to pay for their services. SugarSync worked in very much the same manner. Apple's iCloud service offered iOS users 5GB of storage for free and additional storage coming at a fee. Google drive works with a similar structure. Users are give 5GB to start with and can they pay small monthly fees for additional storage. If a heavy user wanted 100GB within Google Drive, it would cost roughly $59.88 (or $4.99 a month). That same 100GB would cost $199 with Dropbox, Apple's iCloud doesn't offer 100GB packages, a 50GB packages runs for $100. Right off of the bat, For heavy users Google Drive is the way to go. 5GB is a lot of data and the average user won't need more than that.
File Acceptance


A few of the file sharing systems will only take the most popular files. Thankfully the popular systems avoided such pitfalls. All of the major storage choices will take any type of file you want to upload. Props all around. Something and never ceases to amaze me is the file limits some sites insist on. Box.net only allows for 25MB files, the same applies iCloud. Dropbox while more generous at 300MB, still leaves a lot of files worth sharing like movies, and games outside some users reach. Google Drive will allow any file up to 10GB. That is a massive file.
Integration


Google Drive is initially only available on Desktop computers and Android powered devices though an iOS app is coming soon. Meanwhile iCloud takes the opposite approach with only Mac iOS devices allowed. Dropbox takes the cake with integration. Android, iOS, and Blackberry apps are available in addition to desktop access for all browsers and for all computer OS's Windows, Mac, and Linux.
The winner
There is no doubt in my mind a clear winner. Google Drive. The first and foremost reason for me is the file size. I have a lot of larger files, several of them bigger then 300MB and I would like to share them between my Android devices and those of my friends and family. Only Google Drive will allow me to do this. Secondly the pricing is attraction. When you look at big corporations looking into cloud storage options. Are they going to look at iCloud and its 50GB for $100 or are they going to look at the platform with wider available priced at 100GB for just $59.88. It is a no brainer. When you can allow massive 10GB enterprise friendly 10GB files with the cheapest pricing points available. Google Drive wins.

Keep your eyes peeled as members of the GoneGoogling staff will do an overall review of Google Drive.